This Sunday, December 9th is National Pastry Day. Whether it's a blueberry scone, cherry danish or buttery croissant, there is a pastry for everyone. Enjoy these culinary masterpieces at our favorite bakeries in San Antonio this weekend.
It doesn't matter if you are looking for breads or cupcakes…The bakeries in San Antonio have got you covered. There's something to please every sweet tooth 
 One of my favorite things to do is grab a cup of coffee and a pastry on the weekend so this holiday is a great excuse for me to get out there to some new place and find tasty treats!

We Rolled Out and Baked Up Your Ultimate Guide To The Best Bakeries In San Antonio
Here in San Antonio you can find pretty much anything you are looking for at any time, right? Well when it comes to baked goods you will find that there are options for just about everything! We've rounded up some of the best bakeries in San Antonio. National Pastry Day will never be the same! You can order from some of these spots for takeout, make it a whole adventure and visit some that are nearby.
Baked goods have this magical way of brining us all together. It's why we bring them into the office for parties and celebrations, it's why they bring us comfort when things go wrong, and it's why we focus on the cake at birthdays and weddings! If you want to share the love on National Pastry Day you can round up some of these tasty baked goods for the office on Monday morning. With so many great choices you'll be the office favorite, no doubt!
Let's dive on in to some of the top bakeries here in San Antonio:
Romelia's Bakery
11255 Huebner Rd, San Antonio, TX 78230
https://www.facebook.com/romeliasbakery/
Bakery Lorraine
306 Pearl Pkwy #110, San Antonio, TX 78215
(210) 862-5582
https://www.bakerylorraine.com/
Bird Bakery
5912 Broadway St, San Antonio, TX 78209
(210) 804-2473
https://www.birdbakery.com/
La Panadería
8305 Broadway St, San Antonio, TX 78209
(210) 375-6746
http://www.lapanaderia.com/
Bedoy's Bakery
803 W Hildebrand Ave, San Antonio, TX 78212
(210) 736-2253
https://www.bedoysbakery.com/
Gigi's Cupcakes San Antonio
434 TX-1604 Loop #1101, San Antonio, TX 78232
(210) 481-2300
https://gigiscupcakesusa.olo.express/menu/gigis-cupcakes-san-antonio
La Boulangerie
207 Broadway St, San Antonio, TX 78205
(210) 639-3165
https://www.facebook.com/laboulangeriesa
Nadler's Bakery & Deli
1621 Babcock Rd, San Antonio, TX 78229
(210) 340-1021
https://www.nadlersbakerysanantonio.com/
Did you try any of these amazing places for National Pastry Day here in San Antonio? If so, which were your favorites? Leave us a comment below telling us which places you checked out and what they served up that was super tasty! Everything from bread to cupcakes, you'll be sure to find something that suits your tastes and/or sweet tooth for this years tastiest holiday celebration!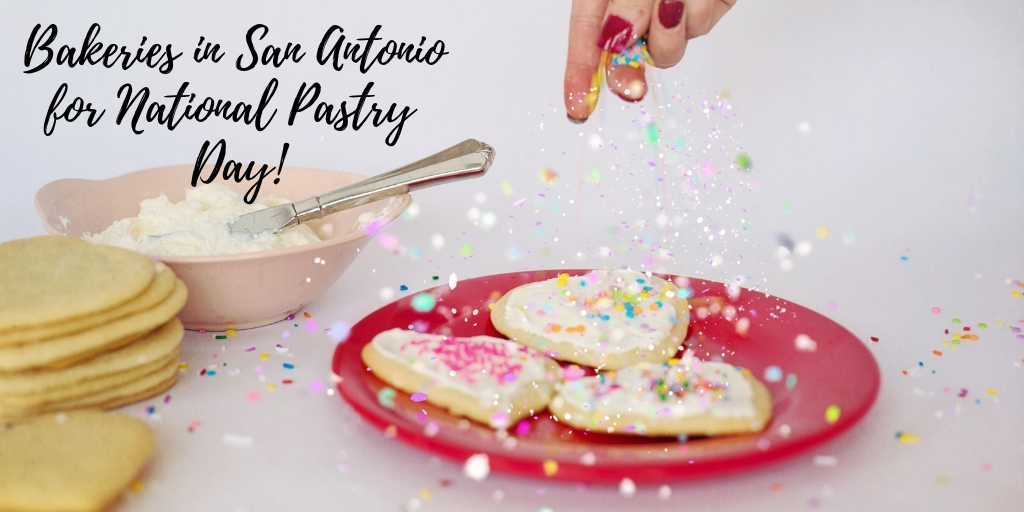 Here are some other great posts you can check out to learn more about life here in San Antonio:
Follow us on our MCLife San Antonio Social Media to stay in the know and live like a San Antonio local!